History
Located at 3902 Davenport Street in Omaha, Nebraska is the gorgeous Joslyn Castle. This lavish 35-room home was built in 1903 for George and Sarah Joslyn in a Scottish Baronial style at a cost of $250,000. (Adjusted for inflation, it would have cost about $7 million today.)
Some of the castles luxuries include stunning carved wood (much of which comes from now-extinct trees) and stained glass, chiseled stone and mosaic tiles, elaborate wrought iron, dramatic staircases, a reception hall, ballroom, music room, conservatory, a gold drawing room, library, and at one point in time the basement even housed a bowling alley.
George started his life as a farmers son and eventually got involved in the newspaper business. He was then made the president of the Western Union Newspaper in Omaha, which is where the bulk of his wealth came from. Sarah, along with several other women, formed The Board of Charities for the City of Omaha, where "Sarah was on the executive boards of the Child Saving Institute and the Humane Society."
Despite their wealth and the construction of this larger-than-life home, and being Omaha's first millionaires, George and Sarah maintained a philosophy; "The possession of wealth is a great trust and obligation.". They lived up to this expectation by using their wealth to help others; for example, the staff in the castle had reasonable living quarters, and the Joslyn's often paid for their education.
George and Sarah also decided to unofficially adopt a girl, Violet, who grew up receiving the best education possible and carried on their last name.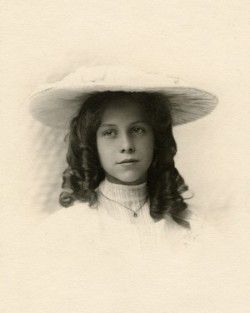 Violet went on to get married to the love of her life, David, in Joslyn Castle. Violet and David had three children together; David Jr., and twin girls named Sarabelle (after Violets adoptive mother) and Violet (named after her).
George died in 1916, and Sarah continued to lived in the castle until her death in 1940, leaving most of their money to be donated to their favorite organizations, like Omaha University and The Humane Society. She also left a legacy for her and George in the form of the Joslyn Art Museum.
The castle served as the headquarters for the Omaha public schools for a few years, and it was during this time that some modern changes were made, like a new central heating and cooling system and an elevator. The castle was eventually labeled as an Omaha Landmark Historic Structure and was put on the National Register of Historic Places for national significance. The beautiful grounds outside are also part of the Nebraska Statewide Arboretum and all five acres of the gardens, grass, and trees are open to the public as a park.
Haunted History
Rumors that the Joslyn family never really left their home have been passed around for a while now, which makes sense seeing as they seemed to have loved and enjoyed their home.
Disembodied voices are sometimes heard by staff members coming from the upper floors of this four story castle. It is also said that the male sounding voice of a spirit who doesn't like paranormal investigators has also been heard/recorded by investigators, telling them to "get out". This is quite different than the seemingly kind voices of George and Sarah who are simply enjoying their home and guests in the afterlife, so it is unknown who exactly the other spirit would be.
Joslyn Castle also has it's own "woman in white" legend as well. (This is one of my favorite legends, and is quite popular.) It is said that a woman in a white dress is sometimes seen floating down the main staircase. Is this the ghost or spirit of Sarah? Or could it be Violet, who got married in the home and is now seen as she was on her wedding day? I've been toying more with the idea that we could create ghost's of ourselves while alive during emotional moments in our lives, so could this explain the apparition? I'm not sure…
My Findings and Final Thoughts
I was not able to perform any sort of real investigation here, but I did visit on a Sunday during March, 2021 for a public tour of the castle.
The tour guide was very knowledgable, and it was such a beautiful place to spend the day! I took countless photos as the group would empty a room, and of course focused on the staircase where a woman in white is rumored to be seen, but to no surprise, I did not catch anything on camera.
Something neat that the tour guide pointed out to us was that many of the wall sconces in the castle feature a bearded deity. The Joslyn's did use a lot of Scottish influences when decorating the home, so this (plus the leaves on the mans head) make me feel as though this is supposed to be the Green Man, who is commonly seen carved into Scottish structures and typically symbolizes things like rebirth. (It also resembles the deity Pan from Greek Mythology.)
I was also able to take a photo of the exact spot that Violet had been photographed sitting in, which was neat. Being present in a spot seen in old photos always gives me a weird, nostalgic feeling…
My Tips for Visiting
Can it be investigated? I don't believe so, at least not the time of year that I went.
It has been investigated in the past, so keep an eye out for when they are allowed or for tickets if they are being sold.
Public tours were being run on a first come, first serve basis for $10 a person. Private tours are also an option, but you need a few people in order to schedule one. Check their website for current prices and hours of operation. Something else that I enjoyed was knowing that part of the proceeds from these tours help pay for the restoration of this beautiful home.
The castle grounds outside are always open to the public and are very beautiful to walk around, with the occasional bench to sit on and enjoy the view.
Parking is free on site, and there is an elevator for those in a wheel chair or who need assistance.
With covid still here during my visit, masks were required.
If you ever find yourself in Omaha, Nebraska, I highly recommend paying Joslyn Castle a visit! And if you can visit this location during sunset, DO IT!
Frighteningly yours,
Ivy!
Works cited:
Joslyn Castle
https://omaha.com/photos-omaha-landmark-joslyn-castle-through-the-years/collection_79163338-5c4b-5e72-b6f5-fb4d896c6f48.html#1